Engineering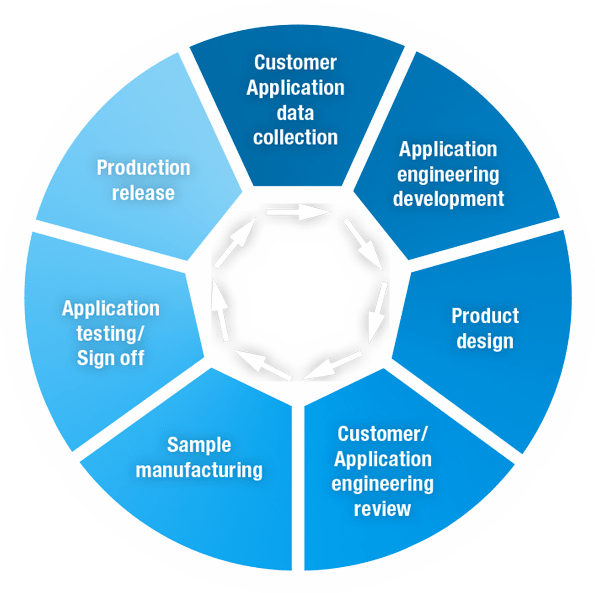 We realize our design and engineering in-house using computer-aided engineering capacities. Throughout the product creation process, we keep constant transparent communications with our partners to ensure the development and growth of your custom-engineered heat exchanger solutions. Our engineering team supports you during product validation testing to assure products exceed customer-specific application expectations.
Customer application data collection
Application engineering development
Product design
Customer/application engineering review
Sample manufacturing
Application testing/sign off
Production release

Heat Exchangers Sizing
Using either engine datasheets or manufacturer requirements, we size heat exchangers and select the right fins depending on your needs based on your environment and system requirements. To calculate and forecast heat dissipation performance, our software has the capability to consider these variables:
Maximum ambient temperature of operation
Relative humidity
Elevation
Pump curves
Fan curves
Pressure drop (internal/external)
Internal/external fin type selection/performance
Fin characteristics (such as fin spacing)
Specific fluid physical properties
Condensation
Fin selection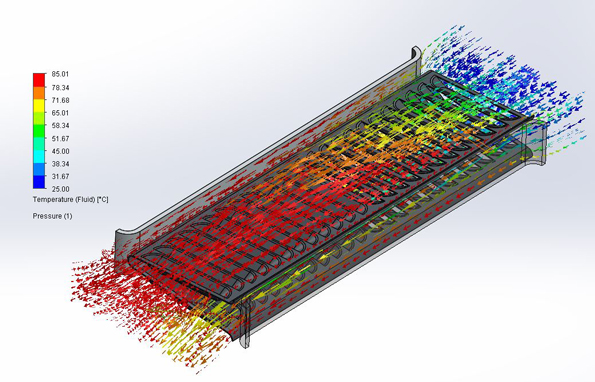 Spectra Premium will design to the customer's specific environment using the latest 3D computer aided design (CAD) software. Our fin selection offers optimal performance for different environment cleanliness. The available fin types include:
Louvered
Wave
Offset strip fins
Straight
Punched
Computational Fluid Dynamics (CFD)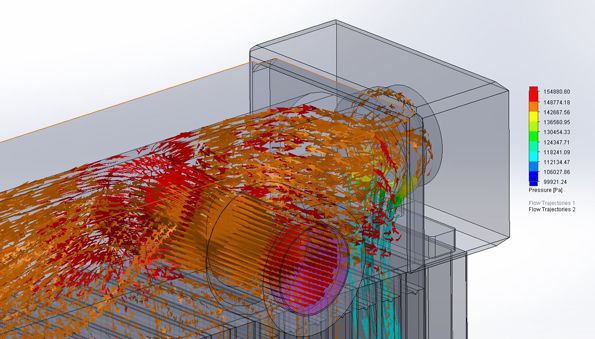 Using CFD software, we precisely calculate flow performance and heat dissipation for cooling systems including its full environment. We characterize the different fins types we offer for pressure drop as well as heat dissipation performance for any type of fluid. CFD is also an essential tool used while developing optimized fins profiles.
For complex heat exchanger arrangements and restrictive environments (under-hood airflow), CFD also enables us to precisely calculate the exact flow passing through each heat exchanger, identify areas of turbulence or reverse flows. With this information, we implement different corrections to the design in order to improve airflow and heat dissipation resulting in an optimized cooling system solution.
Finite Element Analysis (FEA)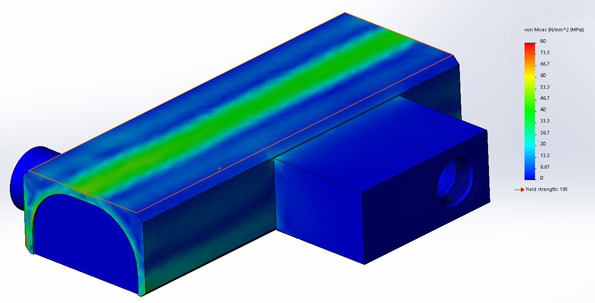 The FEA software serves to analyze stress on the system.  FEA confirms the design on all pressurized components (heat exchanger or reservoir) as well as the different framing structures used in our cooling systems.
Our CFD software in fully integrated with our FEA software: the impact of temperature variations is passed on in order to evaluate mechanical stress caused by thermal cycling.