Fuel Module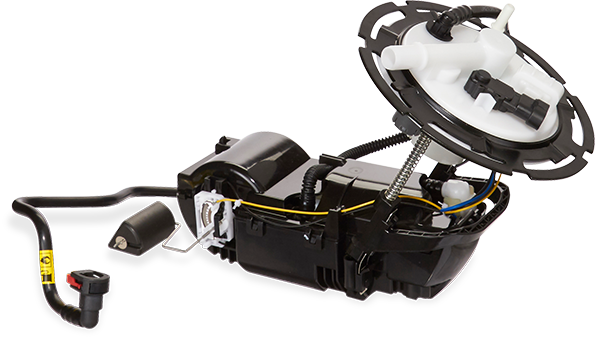 The fuel module is a component of the fuel delivery system that manages the quantification and extraction of fuel inside the fuel tank present on every vehicle. Some vehicles have several fuel modules in their fuel tanks.
Manufactured with POM (Polyoxymethylene) plastic to prevent tubes from breaking during installation
Wiring harness and installation hardware provided when required
Most models include a fuel strainer for smoother installation process
Some fuel pumps feature carbon commutators, which generate less heat and offer increased durability
Fuel level sensor utilizes palladium and silver alloy for increased durability
Follows manufacturer's specifications in terms of voltage, amperage, resistance, pressure and volume
Spectra Premium's fuel modules incorporate OE design and technology for unmatched product quality

Complete
fuel tank assembly
comprised of fuel tank with already-installed fuel module for easier installation and complete repair
Vehicle Manufacturers Terms
Vehicle manufacturers may use different terms for fuel pump assemblies and fuel modules ranging from "fuel pump" to "fuel suction with pump & gage tube assembly".
| Manufacturer | Specific Fuel Pump Assembly Terms |
| --- | --- |
| Nissan | Complete Fuel Pump |
| Mazda | Fuel & Sender Pump |
| Hyundai | Fuel Pump & Sender Module Assembly |
| Isuzu | Fuel Pump |
| BMW, GM, Mercedes-Benz, Mitsubishi, Subaru, Suzuki | Fuel Pump Assembly |
| Mopar | Fuel Pump Module Assembly |
| Toyota | Fuel Suction with Pump & Gage Tube Assembly |
| Honda | Module Assembly |
| Ford | Sender and Pump Assembly |
Follow our free
eTraining
to learn more about fuel modules and the fuel delivery system.
Part Components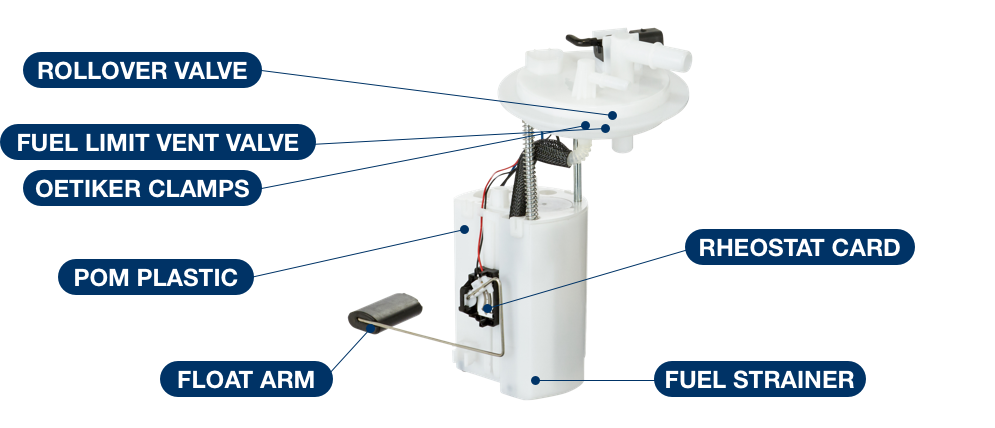 Related Products
Fuel Module Accessories Also Sold Separately
Fuel strainer
Fuel pump sender assembly
Fuel tank hanger
Fuel tank sending unit
Fuel tank pick-up line
Common Causes of Fuel Module Failure
Debris in the fuel rail
Electrical failure
Overheating caused by lack of fuel in the tank
A defective fuel module can cause erroneous fuel gauge readings, along with a decrease in overall engine power which can lead to a vehicle shutdown.
Diagnostics and Repair