Electric & Mechanical Fuel Pumps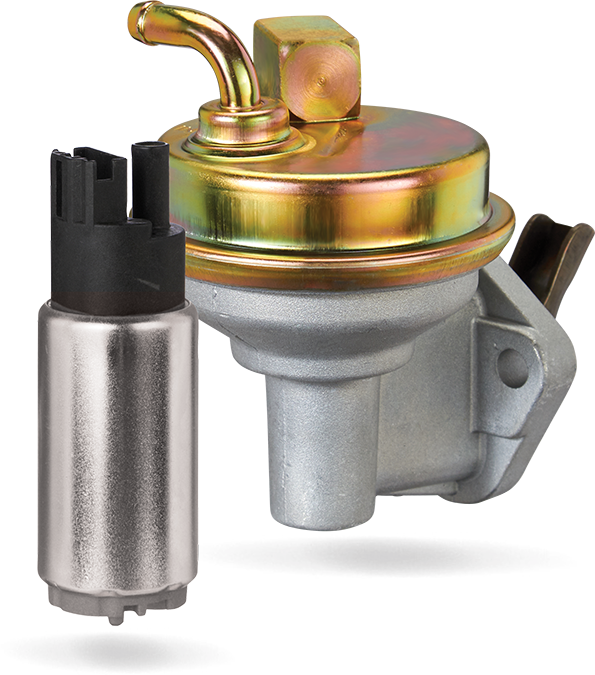 Installed on top of the engine, the mechanical fuel pump is a lower-pressure pump that fits on older models from the 1950s to the 1980s. Its direct evolution, the electric fuel pump, is located within the fuel tank and delivers fuel through the fuel lines and fuel filter to the engine. Except for the Gasoline Direct Injection Pump, modern fuel pumps and fuel pump assemblies continue to be located in the tank and use the fuel in the fuel tank to prevent overheating.
Built to meet or exceed manufacturer's specifications
Some electrical fuel pumps feature carbon commutators which generate less heat and offer increased durability
Endurance, road and fit tested to ensure performance
All applicable hardware and components are provided for all Spectra Premium fuel pump installation

Common Fuel Pump Failure Symptoms
Car Jerks or Sputters at high speeds
Losing power when accelerating
Losing Power while driving uphill
Engine Surges
Engine fails to start
Common Causes of Failure
The fuel pump might fail due to fuel system leaks or present inconsistent pressure leading to engine stalls and uneven combustion. The fuel pump also relies on the gasoline level in the fuel tank both to prevent overheating and pump air. Too low gas level may quickly damage the fuel pump. Located close to the engine, the mechanical version of the fuel pump may fail if it comes into contact with engine oil leaks.
Replacement importance
A damaged or broken fuel pump can render the vehicle unusable until a new replacement unit is installed. A malfunctioning fuel pump can also become a fire hazard if not promptly replaced.
Failure to replace a damaged fuel pump can result is severe driveability issues including but not limited to engine stalls, reduced acceleration, ignition issues.